MODULE PODS PART OF TOTAL OFFICE OVERHAUL AT MEDIA COMPANY A-LEHDET
The head office of media company A-lehdet was built in Helsinki in 2003. The workspaces in the office were primarily built open-plan, with a designated workstation for each employee.
In 2019 A-lehdet began a workspace modernisation project, called Modern Office Space. This project followed on from an earlier one, Modern Work, which modernised the employees' equipment.
Markus Harjula, Director of Operations at A-lehdet, says, "The Modern Work project showed us that our workspaces were no longer completely supporting the ways we work today."
An extension was built on the A-lehdet head office at the same time as the workspaces were modernised. A large atrium formed part of the property, a section of which was converted to office use through the construction of intermediate floors and thus expansion of floor area.
STAFF ACTIVELY INVOLVED IN DEVELOPING OFFICE ENVIRONMENT
The A-lehdet Modern Office Space project was aimed at creating an office environment to support users' needs. That is why actively involving the staff in designing the project from the very start was the obvious choice.
The project, launched in cooperation with design agency Kakadu, began with finding out some facts on the kinds of workspaces that would best support different working methods and changing spatial needs – in essence, working out what makes an inspiring office environment that fits its intended purpose. The first stage of the project consisted of interviews and a staff survey.
"The results were analysed in fine detail, which was followed by thematic interviews on the topics arising from the survey to understand the causes and effects they contained," Markus Harjula says of the flow of the Modern Space project. "After that, the employees in different departments broke into workshops where they could comment on the design agency's preliminary workspace plans."
Some of the workshops looked in closer detail at a particular area, such as break rooms, cloakrooms and project rooms, allowing the staff to contribute to the progress of the project. After the workshops, it was time to design functionality. When the floor plans, designs and spatial use programmes were ready, each department's supervisor revised the plans for that department's office spaces.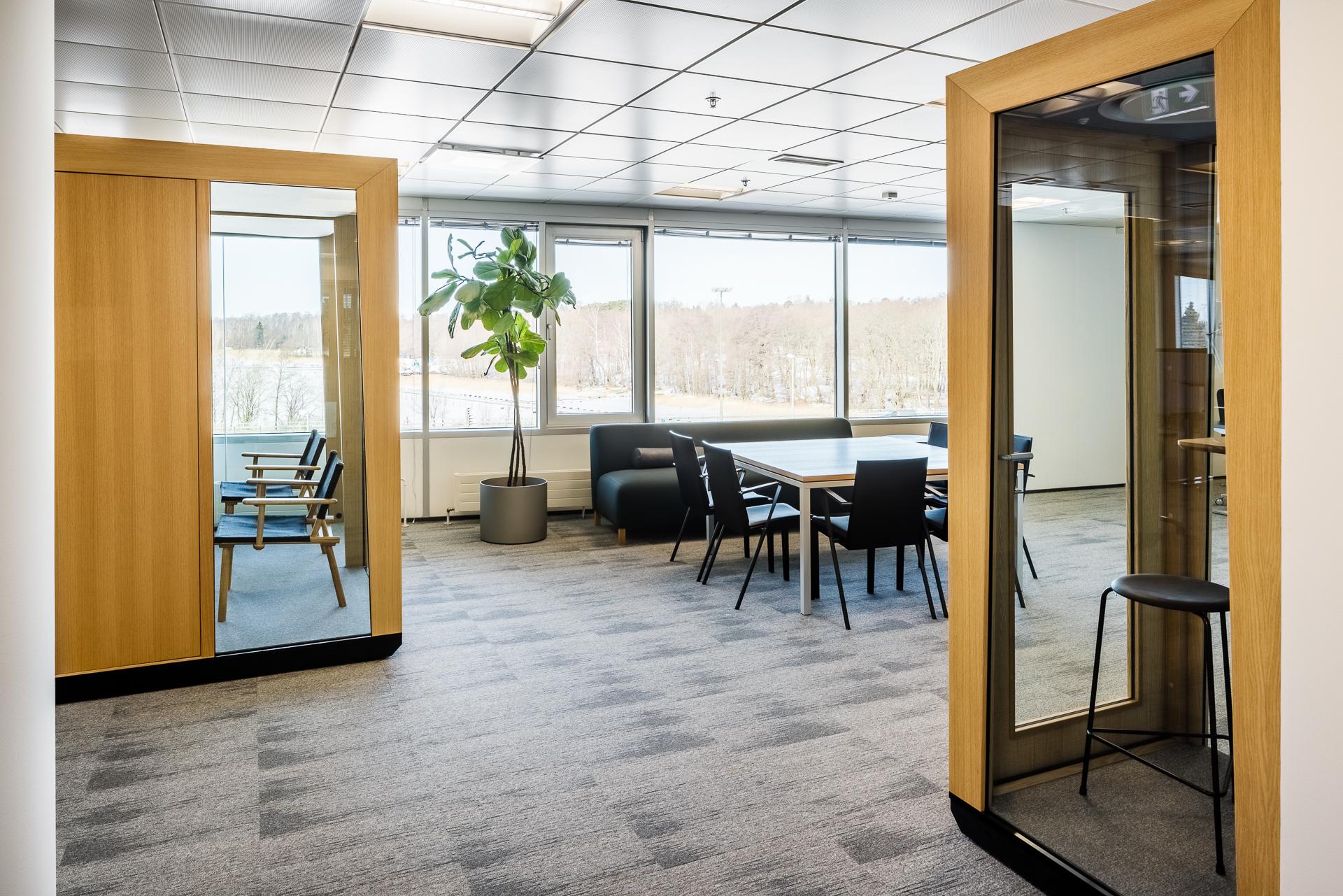 FROM OPEN-PLAN OFFICE TO MULTI-SPACE OFFICE – FLEXIBILITY FOR WORK WITH MODULE PODS
The fact-finding and collaborative planning steps resulted in a spatial use plan for a multi-space office, where individual employees do not have their own workstations. Instead, the office consists of a standard open-plan space for work, project rooms, conference rooms and a quiet area for tasks requiring concentration. There is also a staff canteen, which employees use for work outside lunch hours. The employees also have access to furnished outdoor areas in the summer.
All of these different areas are available to the employees to choose from, depending on the job they need to do.
The areas for different tasks are also equipped with pods where employees can make phone calls or hold meetings. There is a total of 29 pods in the A-lehdet head office: 15 Module Solo phone booths, six Module Team pods and eight Module Team XL pods.
"Kakadu recommended mobile pods at the start of the project. Our staff had also said they'd like phone booths and plenty of pods. Kakadu did a preliminary investigation of the options. We decided to buy fittings primarily from Finnish or Nordic providers, where possible. Buying Finnish was a significant factor in our decision," Harjula says.
DESIGN OF MODULE PODS SUITS A-LEHDET HEAD OFFICE
When the time came to choose pods in the spring of 2020, Harjula visited the factory in Nummela, Vihti, to see the Module pods for himself. He was impressed by what he saw.
"The design of the Module pods supports that of our office, and details like the concealed hinges and firm doors create an impression of a quality product."
Module pods have slanted walls, which give them a recognisable identity. The slanting has a practical function in addition to a design one. It affects the travel of sound inside the pods, making them very acoustically pleasant places to do work in. The pods are designed with a particular eye for detail. The result is a pod with clean lines that looks great.
The Module Team and Team XL pods at A-lehdet are fitted out as conference rooms. The choice of fittings in the pods creates certain moods: there are both conference rooms and less formal discussion venues.
"Some of the pods have bar stools, and some have office desks. Our staff wanted more informal spaces, so some of the pods have armchairs and coffee tables," Harjula says.
SIGHTS SET ON USING NEW OFFICE ENVIRONMENT FROM AUTUMN 2021
Renovation of the A-lehdet head office, including building new office space, was completed in the spring of 2021. However, due to the global pandemic, the spaces will have to wait for their users until at least the autumn.
The pandemic has led to many employees in different companies adopting new ways of working. Working from home is likely to be more widespread in the post-pandemic era than it was before the virus. In spite of that shift, physical workspaces will continue to play an important role, however.
"Working from home is here to stay and people will be doing it more than before COVID-19. But we can clearly see that people want to have physical contact and meet their colleagues. Even before the pandemic we'd thought about surveying our staff about the new offices after a couple of months to get feedback on the change and then make adjustments based on it. Workspaces are constantly under development and never finished. More people might join the company, or situations and needs could change. An organisation should have the capacity to change its workspaces and office environment to allow it to truly add value, work well-being and thus work engagement."
Module pods create the framework for succeeding at work – privacy and tranquillity needed for efficient work
Module Pods are a response to the challenges of modern work. Module offers pleasant, calm surroundings for efficient work. To ensure an excellent user experience, they are designed with particular attention to sound insulation, acoustics, ventilation and lighting.
LATEST NEWS