Designed to meet the challenges of modern working life, Module spaces are a prime example of Finnish high-end design expertise. Impressive quiet pods create comfortable and peaceful environments for efficient work.
The Module pod collection has been designed by award-winning interior architect Esa Vesmanen. His work has been displayed in many exhibitions in Europe, Japan and the United States.
Vesmanen studied at Aalto University and the ENCI Les Ateliers School in Paris, and his CV features the internationally renowned Red Dot Design Award for his Finom lamp design and the Chicago Athenaeum award for his Balance Acoustic Chair. In Finland, he was interior decorator of the year in 2008.
Vesmanen and the manufacturer Muotolevy Tilaratkaisut have combined their special expertise in Finnish design and decades of experience in building work environments.
As a result. the Module pod collection, provides peaceful and comfortable spaces for work, and achieving flow.
Esa Vesmanen, how was Module created?
The modern work environment and a user-driven approach inspired the Module design process. Many people find an open-plan work environment challenging to work in. Module was designed to tackle this problem in order to succeed in attracting the best employees, while the open-plan work environment is becoming the new norm.
The reality of work is that it is difficult to focus, with meetings, being constantly busy and endless to-do lists. If, on top of everything else, the acoustics are bad, focusing on the task at hand takes a lot of energy.
In the midst of distractions, people may feel that they cannot cope, which results in a sense of inadequacy and reduced work efficiency.
Module was created from this background – to bring a calm oasis to the workplace to support people's success. A space where it is possible to focus on the essentials: to work and get things done or to have meetings without disturbing the work community.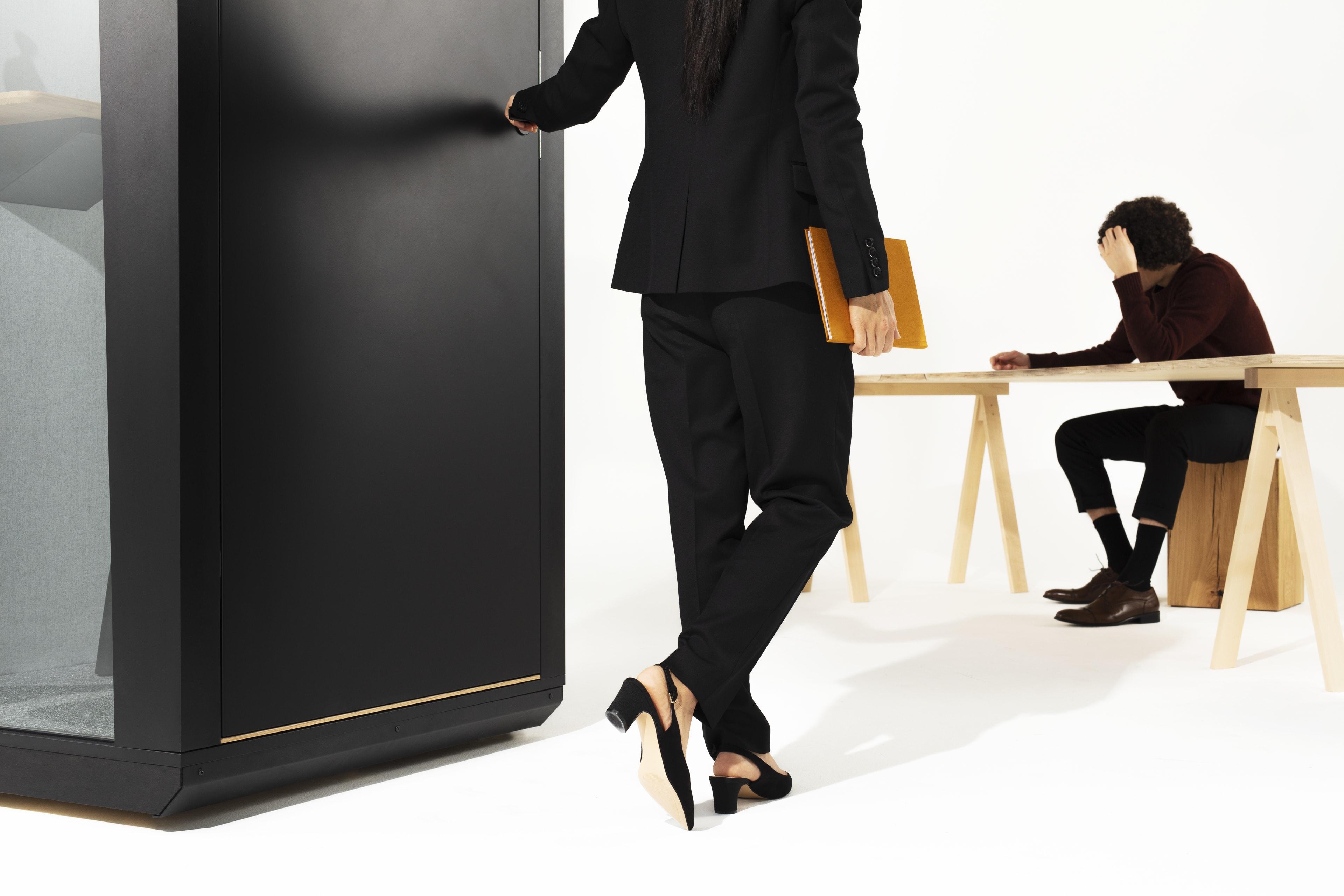 What are the special features of the Module design?
Our goal has been to create spaces that offer excellent user experiences. Natural materials, soundproofing, acoustics, ventilation and lighting are at the heart of everything in the design. Large glass surfaces create a sense of space, walls made of woollen material provide protection and finely tuned details are aesthetically pleasing.
We have managed to combine state-of-the-art sound insulation with good acoustics. Efficient ventilation ensures fresh air for clear thinking. Indirect lighting is designed to be pleasant and glare-free.
What inspired you when you designed Module?
The starting point of the design was to create an immediately recognisable identity for Module and a stylish setting for quiet spaces that is suitable for a variety of environments.
Module was inspired by nature and architecture. Buildings stand on pillars and beams, and so do the Module spaces. They go well with modern architecture and with the used natural materials you cans sense nature.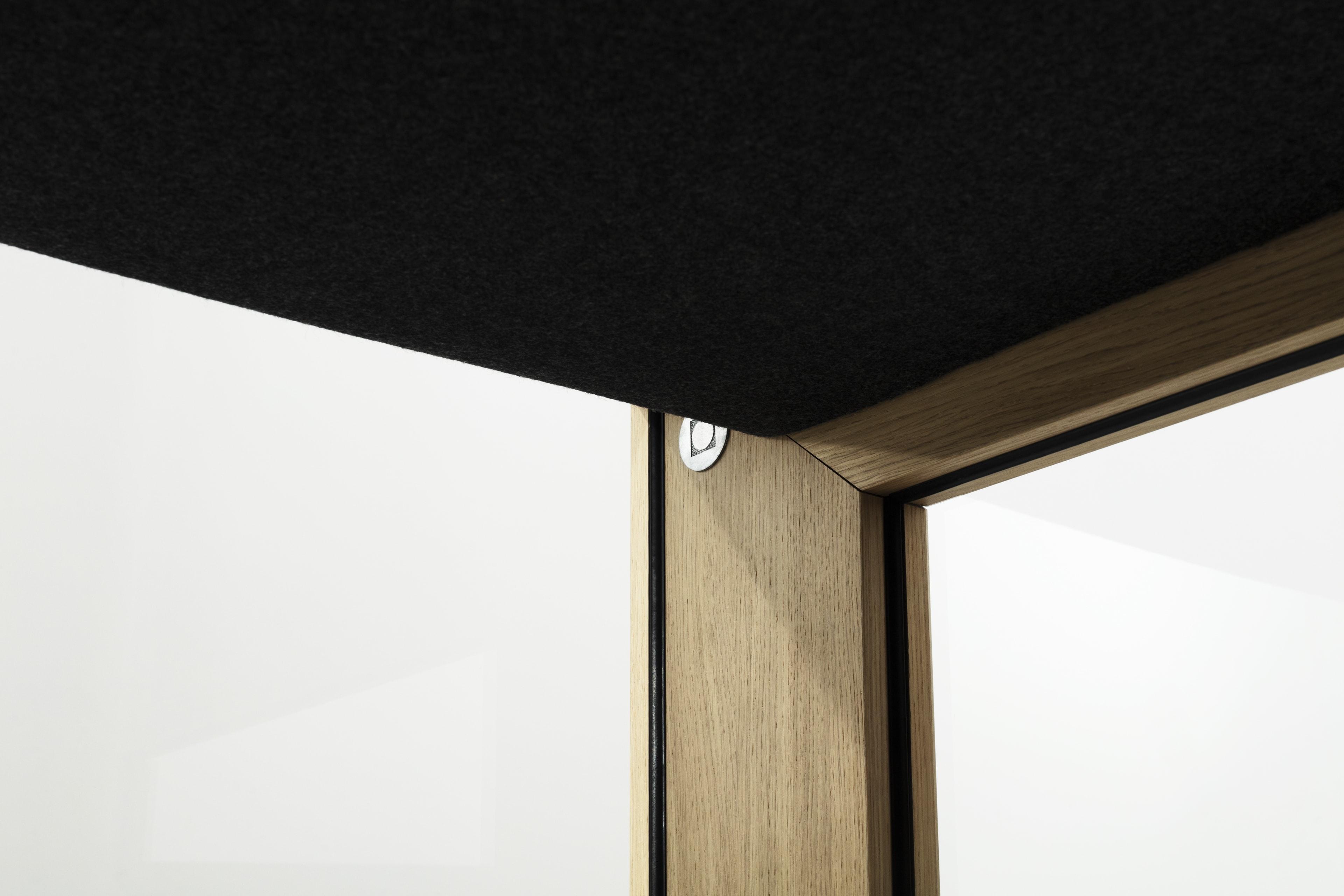 What kind of user experience do you want Module to offer?
A positive experience: a space that feels good and where you feel comfortable.
Hectic work and restless environments can cause chaos. I believe that Module users can focus and succeed in their work even if they are very busy.
We are sure Module pods provide people facilities where they can flourish. Spaces that they love working in.
We empower succesful work communities
Module is the success enabler of modern work environment. We combine decades of experience in high-quality engineering and Finnish design to create spaces for hard work, collaboration and tranquility.